Koloniale straatnamen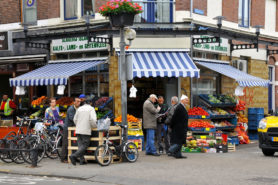 Postcolonial Utrecht
Like many cities across the Netherlands – and indeed across Europe and the United States – Utrecht bears traces of a colonial and slaveholding past. Today, some of these traces, such as street names, are increasingly contentious and have sparked protests amongst local communities and activists. The Gemeente Utrecht / Utrecht City Council has commissioned us to research the background of colonial-era street names in Utrecht as a significant step towards coming to terms with the colonial past all around us.
In this internship, you will be conducting historical research on several key figures after whom streets have been named and/or other traces of the colonial past in Utrecht. You will examine the historical controversies surrounding these figures, as well as the extent to which these controversies have, often literally, played themselves out on the streets of Utrecht. You will also get to know various stakeholders in the project: the Council, politicians, local residents, activists, public historians and academics. We will work together to develop a walking tour of these sites of colonial memory. Your research will also be featured on a project website funded by the Gemeente Utrecht.
More information: Britta Schilling.